PURCHASING FAQ
FREQUENTLY ASKED PURCHASING QUESTIONS


Can I have my new item customized before it is sent to me?
Absolutely!! We can Cerakote your item before it comes to you. A large portion of the firearms, slides, and stocks that we sell have the Cerakote option built into the product. If the product that you are interested in purchasing has the Cerakote option on the product page, we waive the disassembly and reassembly fee (up to $85 in savings), just another reason to buy from us.
How can I purchase a firearm online?
| | |
| --- | --- |
| Step 1) | Choose a firearm on our website: Just pick out the firearm you would like to buy in our store. |
| Step 2) | Add it to your cart, and check out with your own address: Add it to your cart, and then check out, specifying your own shipping address during the checkout process. An order confirmation will be send to you after checkout. |
| Step 3) | Locate an FFL dealer near you: Pick a FFL holder near you that will accept the transfer of the firearm for you. This can be your local Gun Shop, Gun Range or Pawn Shop that holds a current FFL license and will process your transfer. If you are in the Burlington, NC area you can pick up your firearm locally, Just remember in NC, you need a pistol permit or CCW for pistol purchases. |
| Step 4) | Next, have your dealer email a copy of their FFL to INFO@WEAPONWORKSLLC.COM please make sure they include your name and order info in the email. |
| Step 5) | We ship your firearm to your dealer's address: Once we receive the dealer's information, we will ship the firearm to their mailing address. |
| Step 6) | You pick up your firearm at your dealer: Upon delivery to your dealer, you will complete the background check at your dealer's place. Once the firearm is ready to be picked up at your FFL, inspect the firearm to make sure it is exactly what you ordered. If there are any problems, do not accept the transfer. We will gladly have the firearm picked up and returned to us at our expense. |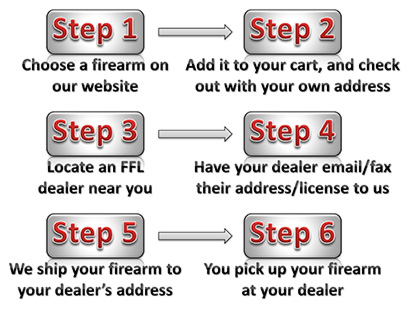 How old do I have to be to purchase a firearm online?
You must be 18 or older to purchase a rifle or shotgun and 21 or older to purchase a handgun. Check your local & state laws.
How Do I Purchase a NFA Item?

Barring certain federal, state, or local prohibitions, an individual who is at least 21 years of age and currently able to purchase and possess any non-NFA firearm will also be eligible to purchase an NFA firearm from an NFA dealer.

You only need to provide us with three things to complete an NFA item purchase online:

1. Payment

2. Your dealer's Federal Firearms License (FFL)

3. Your dealer's Special Occupational Tax License (SOT):

We must ship a NFA firearm or suppressor directly to your receiving FFL, so we require a copy of the receiving dealer's FFL and a copy of their SOT. They can email the license to Info@weaponworksllc., make sure they include your name and order info.
--VERY IMPORTANT-- Once the NFA firearm or suppressor is received by your FFL, Please INSPECT THE FIREARM/SUPPRESSOR THOROUGHLY to make sure that there are no defects.

If there are any problems whatsoever, DO NOT FILL OUT FORM 4!

 Notify us and we will gladly have the firearm or suppressor picked up and returned to us.

 Once you fill out the Form 4, the firearm or suppressor is considered used and must be returned directly to the manufacturer for warranty repair or replacement.

We will not accept any returned NFA firearms or suppressors for any reason, other than a manufacturer's defect.
Before processing a NFA order, we will always confirm it with you. If you decide to cancel after the order has been confirmed, there will be a 25% cancellation fee. This is due to the paperwork involved in processing your NFA order.

There will be a 25% restocking fee on any returned NFA firearm or suppressor that is illegal in your state, or if you are prohibited from owning a NFA item.

Due to this, please verify that the item is legal in your state before starting the order.

The information on this page is for reference purposes only and not intended to be used as legal advice. Some states permit all types of NFA items, other states permit only certain types, and a few states do not permit NFA firearms or suppressors at all.

For more detailed information, contact the local ATF office in your state or the ATF/NFA branch in Martinsburg, West Virginia:

Phone: (304) 616-4500 Email: NFA@ATF.GOV


Please consult your receiving NFA dealer for the latest information concerning NFA transfers in your state of residence.
Can I Purchase Magazines Online?
Yes, They can be purchased, but there are restrictions based on your location, Please read below:
ATTENTION: The following locations have magazine restrictions; please check your local laws and regulations before placing an order. It is up to YOU to know and follow your local laws if your location is not listed here.

Colorado- No magazines over 15rds, no shotgun magazines over 8rds
California- No magazines over 10rds and we do not ship high capacity (magazines over 10rds) in the form of complete rebuild kits to CA.
CT- No magazines over 10rds
Hawaii- No handgun magazines over 10rds.
Massachusetts- No magazines over 10rds.
Maryland- No magazines over 10rds.
New Jersey- No magazines over 15rds.
New York- No magazines over 10rds (you can only load 7 rounds into a 10rd magazine)
Chicago-No magazines over 10rds.
Washington DC- No magaziness over 10rds.
Illinois: No magazines over 12 rounds to Chicago, IL
No magazines over 15 rounds to Aurora, IL
No magazines over 16 rounds to Franklin Park, IL
No magazines over 10 rounds to Oak Park, IL
No magazines over 35 rounds to Riverdale, IL

We accept no liability if your local area is not listed here because it is your responsibility to know your local laws. If you are unsure of your local laws please contact your local Law Enforcement Agency for more information.
Can I purchase ammunition online?
Yes, most states allow ammunition to be shipped directly to your home or place of business.
-All ammunition will be shipped Fedex or UPS ground.
-Ammunition cannot be shipped air freight, due to shipping regulations.
-Ammunition and firearms must be purchased separately.
-We do not accept returns on ammunition, all sales are final.
-Always make sure you use the correct ammunition for your specific firearm.
-Check your local laws for any other regulations before ordering.
Note: Federal law requires that you must be at least 18 years old to purchase shotgun and rifle ammunition and 21 years or older to purchase handgun ammunition.
ALL SALES FINAL ON AMMO ORDERS
Cancellations and Returns are NOT Allowed on Ammo
We will not ship ammo to CA,IL,NY,MA,DC,CT, or P.O. Boxes
How do returns work?
Returns are accepted for merchandise that is defective. We will provide a refund, or exchange on all defective firearms, prior to transfer, and accessories found defective within 10 days. We will also arrange for the defective items returned to us by the original shipper. Please do not return packages prior to receiving a return authorization
Our Address is:
Weapon Works LLC
1833 Anthony Rd
Suite A
Burlington, NC 27215
Firearm Returns - Please take your time to inspect all firearms thoroughly before proceeding with the transfer. Once a new firearm is transferred to you it is considered used, even if unfired. We cannot provide a full refund for new firearms once they have been transferred into your possession. Also, we do not reimburse FFL transfer fees on returned items. We do understand that some manufacturer defects may not be identifiable upon initial inspection. However, upon discovering a defect after the transfer, the firearm must be returned directly to the manufacturer for replacement or repair (in accordance with manufacturer's warranty policy). By sending a defective firearm directly to the manufacturer, you can avoid the unnecessary transfer fees of returning the firearm to us through your local FFL dealer.
Click For: